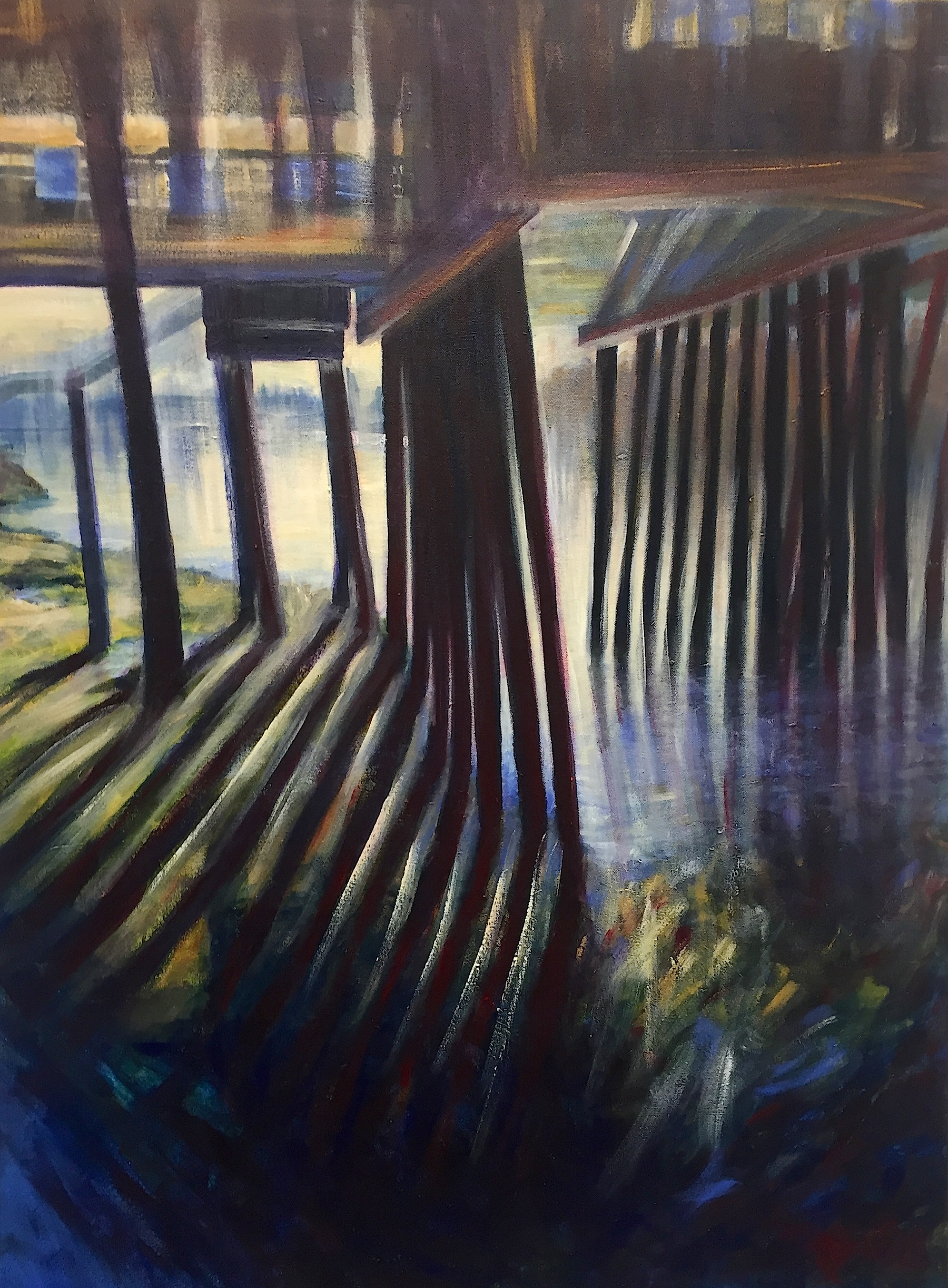 Windows 17
The focus of this almost-abstract painting is on long rectangles of light glowing from between dark shadows that stretch from the blue and orange-brown geometric forms at the top down into darkly textured colors of blue, brown, and red. Inspired by the bright backlighting of piers supporting a bridge over Sand Creek.
Acrylic, 40 x 30, on gallery-wrapped canvas, $3000 USD.
Floral
Poured paint in primary colors followed by glazing in negative spaces leads to interesting impressions.
Watercolor, 9 x 7 inches, $160 USD.
Adrift
Inspired by contemporary Australian aboriginal art, this painting was based on the 'root wad' of a large tree, which fell into the lake and later washed up on shore as driftwood.
Acrylic, 18 x 24 inches (61 x 46 cm), in a simple black floating frame (19x25.5), $1100 USD.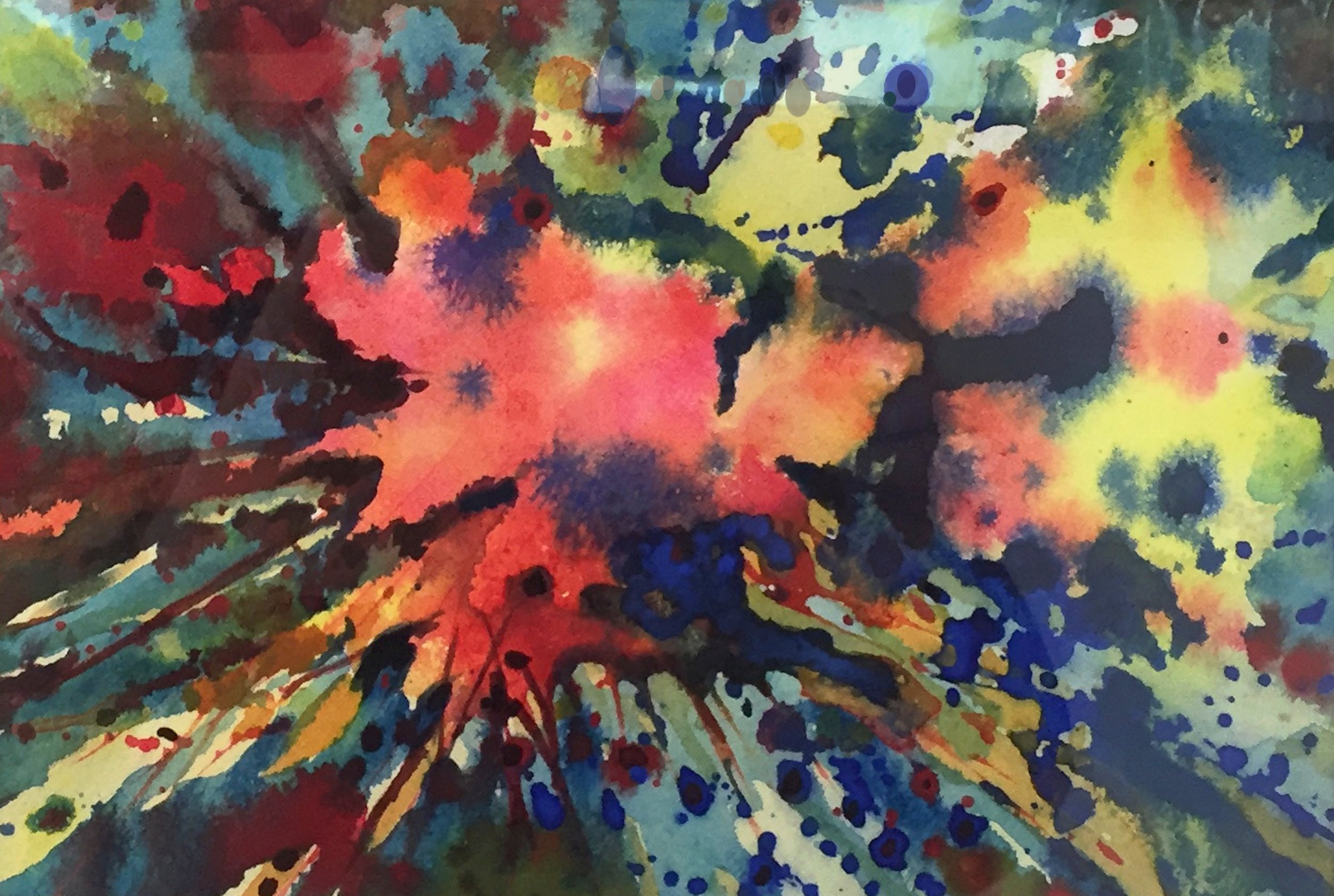 Genesis
Dripping, splattering, pouring, turning and tipping with primaries, then subsequently adding mixes of colors. The end result made me think about the beginning of time and what it might have been.
Watercolor, 8 x 10 inches, $195 USD.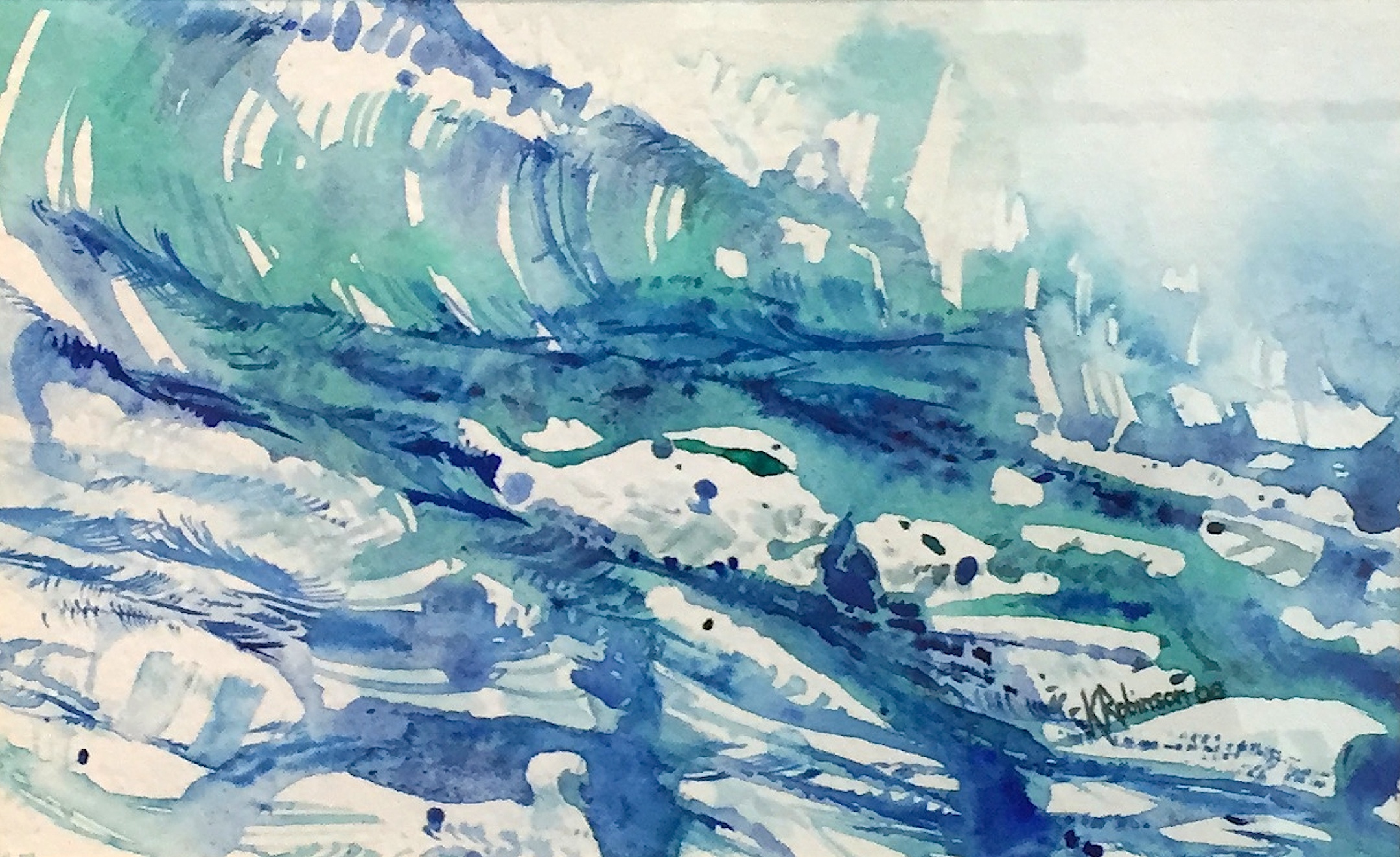 Wave
I painted this on the Oregon coast while experimenting with a new fan brush and Daniel Smith regular and iridescent sea colors.
Watercolor, 5 x 7 inches, $90 USD.
Reef Dweller
Pouring, dripping, spattering, and brushwork resulted in the emergence of this shy denizen.
Watercolor, 8 x 10 inches, $185.
Out of Chaos
This painting not only looks 3-dimensional, it IS! I used palette knives to sculpt the features out of a mixture of violet acrylic paint and gel medium, then completed the painting using a combination of palette knife and brushwork.
Acrylic, 8 inches x 10 inches, on board-mounted canvas. $320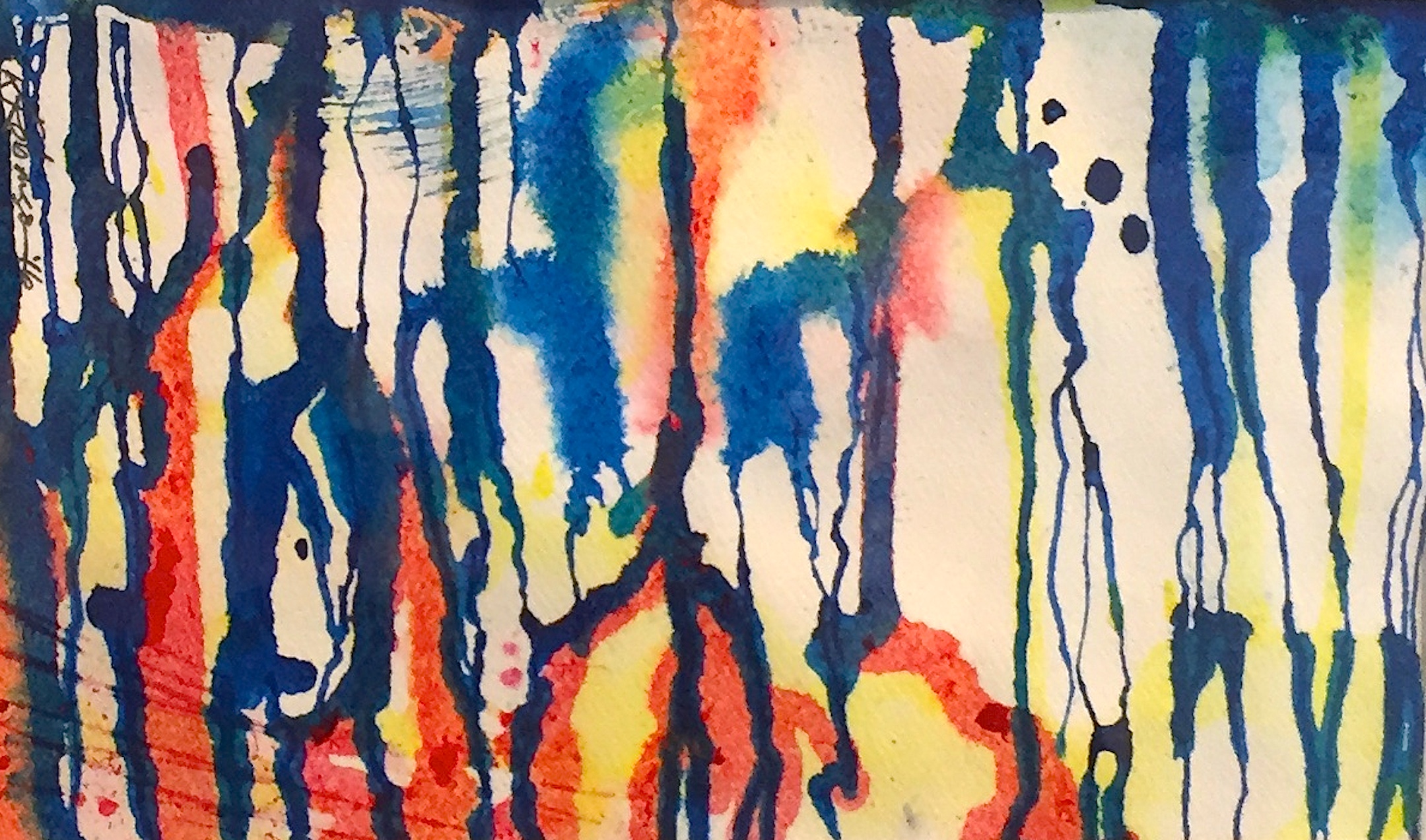 Tuning In
Flowing strings of vibrating sound in blue and red, with dots, streaks, and shadows of yellow, red, and blue makes a symphony of color!
Watercolor, 4.5 x 7 inches, $75 USD.
Spacetime (R)Evolution
This fourth painting in my Austrailian Aborigine-inspired series explores the recurring spiral pattern and motion in nature that can be found on any scale from tiny, like a snail shell, to huge, like a galaxy or black hole. Like the theme, it has been evolving over time.
Acrylic, 24 x 18 inches (61 x 46 cm), in a simple ivory black floating frame, 25 x 19. $980 USD.
Meditation Down Under
The first in a series inspired by contemporary Australian aboriginal work, I used a close-up photo of our cat's fur as a framework. Single strokes of paint layered over a dark background give a three-dimensional feeling.
Acrylic, 24 x 24 inches (61 x 61 cm). Sold.
Below What We Think
T.E. Lawrence wrote "Below what we think we are, ... we are everything." This painting explores what is underneath our surface. Perhaps it's a school of fish swimming upward from deep places, or meteorites swirling in solar wind, or something else, but it's everything imaginable.
Acrylic, 3 14 x 18-inch panels, 18 x 42 inches total. Sold.